Create a pond around your existing landscaping
Eco ponds are dynamic water features where aquatic plants, fish, and wildlife can co-exist together. You can enjoy having aquatic plants such as water lilies as well as koi fish. Eco-ponds can be as large as swimming pools with half the construction price. They also require Very Little Maintenance. All you have to do is clean up the debris in your backyard pond biofilter. Your pond will add a natural touch to your landscaping around this pond and your family and friends will surely enjoy sitting close to these beautiful water features.
We provide design and construction services to build natural-looking koi ponds in Dubai and the United Arab Emirates for landscaping. We can also arrange for a free visit and consultation at your home and suggest different landscaping ideas to be added to your garden.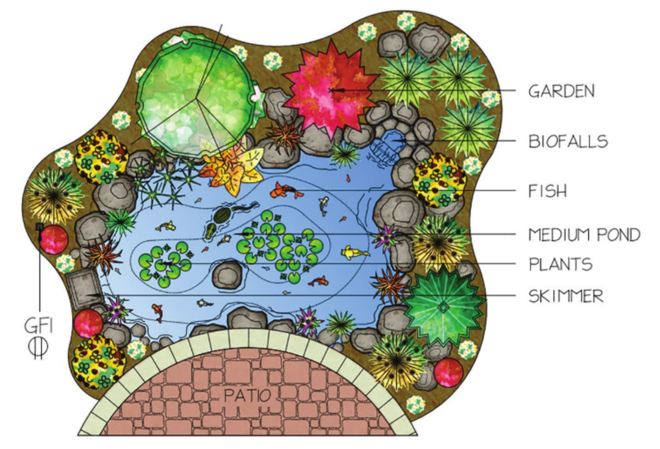 What's Included:
3D model of your garden with the waterfall
Pond liner & underlayment
Handpicked natural rocks and river rocks
Skimmer with bio-falls and high-efficiency pump
Aquatic plants
Underwater lighting
Optional – app controlled color changing lighting
Optional – Landscaping around your existing pond
Optional – Outdoor furniture (e.g. bench)
Frequently Asked Questions
1. How much does it cost to construct a natural pond?
Well, it depends on the square feet area, workforce, and equipment required to build one. We recommend you get in touch with our expert team for detailed information.
2. What are good plants to put around a pond?
According to our experience, the following plants will make your pond look more attractive:
Pickerel Pond Plants
Taro Pond Plants
Creeping Jenny Pond Plants
Cardinal Flower
Water Lettuce
Horsetail Pond Plants
Mosaic Plant
Blue Iris
3. How deep should a backyard pond be?
We recommended you build a garden pond at least 2 feet in depth to make sure there is enough water volume to avoid various landscaping issues. If you live in a cold climate where the pond may freeze, go as deep as 3 feet.
The depth of backyard koi ponds should be 3 feet on average because the fish needs more space to swim and grow.
4. How to clean the pond water?
To clean the pond water, fish out string algae, treat the water with hydrogen peroxide, maintain the pond with aeration, and remove plant debris with a pond vacuum or by pumping out the water.